The 2012 Sixth International Conference of the Society for the Study of Childhood in the Past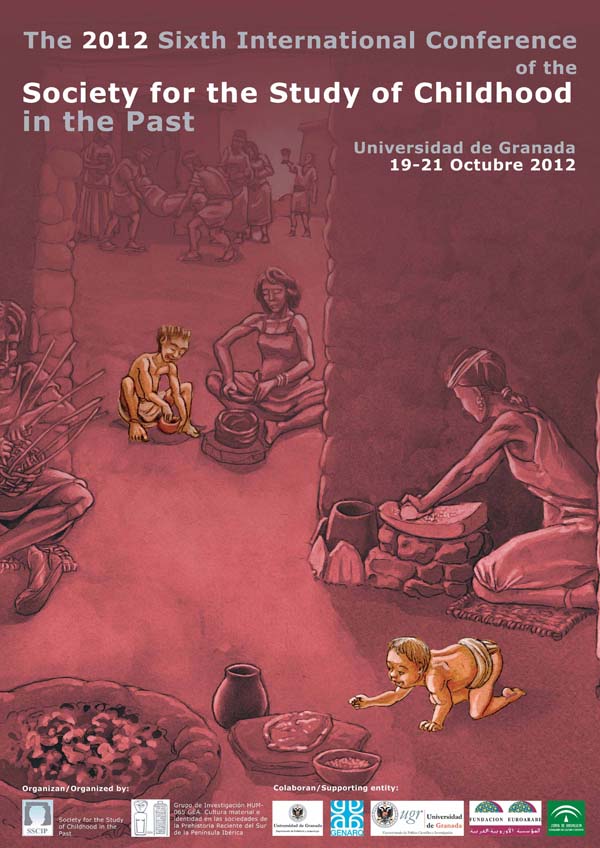 Children and their living spaces. Sharing spaces, sharing experiences
19th– 21st October 2012
University of Granada, Spain
The 2012 Autumn conference of the Society for the Study of Childhood in the Past will be held in the University of Granada, Spain from Friday 19th to Sunday 21st of October, when the theme will be Children and their living spaces. Sharing spaces, sharing experiences. As in previous years, the conference will include sessions addressing the conference theme and other aspects of recent research into children and childhood in the past.
In 2012, the themed sessions will aim to bring together scholars from a wide range of academic disciplines including History, Archaeology, Literature, Sociology, Anthropology and Architecture to consider different aspects of children and the use of space in the past,
children's use of space within the home, rules and negotiating processes; places used solely by children; places for learning and/or playing;
how children construct their own spaces and how they share the spaces with other adults;
children and the funerary spaces;
children and their workplaces and conditions;
how children´ spaces can be visible in archaeological records, texts or architecture;
children´s places at museums.
As in previous ones, SSCIP Conference aims to widen knowledge and generate new perspectives on existing knowledge about childhood in the past and to stimulate new avenues for future research.
Simultaneous interpretation will be provided in English and Spanish during the conference. Papers could be presented in english or spanish. Abstracts in English (200 words) must be submitted by the 1st of September 2012 via email to Margarita Sánchez Romero: marsanch@ugr.es
Registration:
Registration is open until de 1rst of october at www.sscip.org.uk
More information:
To find out more contact Dr Margarita Sanchez Romero marsanch@ugr.es or Eva Alarcón García eva@ugr.es
Organizing Committee:
Margarita Sánchez Romero. Universidad de Granada
Gonzalo Aranda Jiménez. Universidad de Granada
Scientific secretary:
Eva Alarcón García. Universidad de Durham. Reino Unido
Organized by:
Society for the Study of Childhood in the Past
Grupo de Investigación HUM-065. GEA. Cultura material e identidad en las sociedades de la Prehistoria Reciente del Sur de la Península Ibérica
Sponsored by:
Departamento de Prehistoria y Arqueología. Universidad de Granada
Proyecto de investigación de excelencia: HUM 5709. La arquitectura en Andalucía desde una perspectiva de género: estudio de casos, prácticas y realidades construidas
Vicerrectorado de Política Científica e Investigación. Universidad de Granada
Fundación Euroarabe de Altos Estudios
Conjunto Arqueológico Dólmenes de Antequera. Consejería de Cultura y Deportes. Junta de Andalucía
Comenta desde Facebook